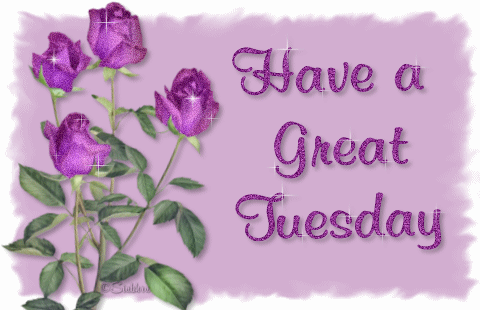 Good Mornin' Yall,
I do hope that everyone had a great Monday and ready to start a new day. It is currently 56 degrees and the winds are out of the East at 5mph. We've had a couple of nice days around here. Sunday the Sun shone all day and it got up to 63 degrees. Yesterday was really nice and it got up to 73 degrees. I had to turn my A/C on yesterday afternoon. This morning I have the heat back on. LOL. Clouds are going to start moving in this afternoon and we have more rain in the forecast for tonight and going thru Thursday. They say we may even have some Severe Storms on Thursday. I sure hope not. I just wish it would make up it's mind if it's going to be nice and warm or nice and chilly.

Not alot has been going on around here. Sunday after I did my post, I started getting sickly on my stomach and had to lay back down. The girls had gone to Church and when they got home, they worked on their rooms some more and let me rest. For their lunch, they fixed one of those microwavable beefaroni's and had some chips. I finally started feeling better later that afternoon and got up and fried us some Chicken Strips and French Fries for our supper on Sunday night. Yesterday, our youngest daughter was suppose to have had a softball game in Bay, so when they got in from School, we got ready and left and went to Trumann and ate at Subway. The girls love to eat at Subway as well as I do. After we finished eating, we went on down to Bay. Her game wasn't suppose to start till 7:30p.m. but she had to be there at 7:00p.m. We had about an hour to kill before being at the softball field at 7:00p.m., so I called my friend, Diane, and went by and met her. She is really a nice person and Miss Emmy was there also. Now the pictures that Diane shares on her blog just doesn't do any justice of Miss Emmy. Miss Emmy is just a precious and adorable little girl. Our youngest daughter really took to her. But we had a nice visit with Diane and her husband, Lamar, and Miss Emmy. "THANK YOU" Diane for you hospitality while we were there. It was so nice to finally meet you and I did enjoy our visit. After we left Diane's place, we went on down to the softball field. Well, when we got there, come to find out, Bay didn't have us on their schedule to play ball with them. Nope, they sure didn't. So, we didn't get to play softball after all. I was a little upset because after all, gas prices isn't cheap these days and I can't afford to be putting gas in my truck everytime. But at least I did get to meet Diane while I was there tho. So, we headed back home. After we got home, the girls said they needed some clean jeans for today, so I did a load of laundry last night. I still have another load to do today.

My DH and his Uncle made it to Salt Lake City just fine this week. He called me around 9:00p.m. last night and he was fixing to go to bed. They had just had supper and switched out in Kingman, AZ. They will be home sometime tonight to spend the night. They will have to leave out tomorrow around 11:00a.m. going to Memphis and picking up their Minnesota/Wisconsin load. They have to go to Canada in a couple of weeks, but I'm not sure what part of Canada they will be going to yet.

Well, guess that's about it for this Tuesday. I am just now having my first cup of coffee and I am going to go start my visiting. Take care my friends and have a great day. May God Bless You and Yours.

LOVE & HUGS,