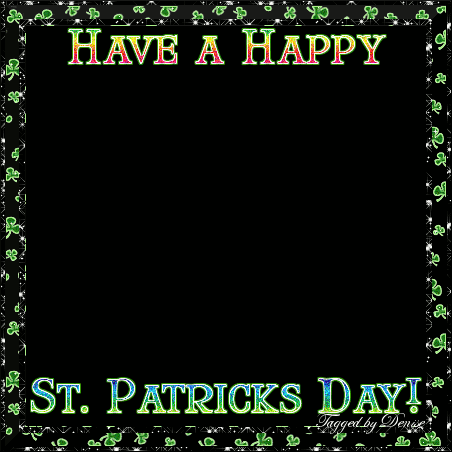 Good Mornin' Yall. I hope everyone had a great Monday and ready to start a new day . It is currently Foggy here and we are under a Dense Fog Advisory until 9:00a.mCST this morning. It is 43 degrees outside here and the winds are calm therefore we have no windchill right now. It is suppose to be up around 73 degrees today. Sunday when i did my post I thouht it was suppoed to be sunny, but it was cloudy all day and even th the temperature got up to 55 degrees, it was in the chilly side. Yesterday it was mostly cloudy until yesterday afternoon and it got up in the 60's adnd turned out to be a nice afternoon. But once the Sun went down last night, it got chilly again. I'm running my A/C during the day and turning the heat back on at night. LOL.

Today is St. Patrick's Day, so I would like to wish all my friends, a "HAPPY ST. PATRICK'S DAY"!!!! MAY THE LUCK OF THE IRISH BE WITH YOU!!!! Be sure to wear your Green and are any of you cooking the traditional St. Patick's Day foods? I doubt I will since the girls don't like those kinds of foods.

Both the girls had Softball practice yesterday afternoon and last night. Our youngest daughter had her practice right after School and our oldest daughter had hers at 6:00p.m. last night. Both of their Pre-Season Tournaments begin on March 31 and goes thru April 4. One of the Tournaments will be in Monette, which isn't very far from here and the other one will be in Trumann. So, it's going to be at 2 places at one time. LOL. I'll just have to take turns like I have in the past.

I am late in postin this morning because I have actually been sleeping better at nights and not waking up until my alarm goes off at 6:00a.m. CST. Then I get up adn fix the girls their breakfast and get them up around 6:30a.m.CST so they can eat and get ready for School. So now, i am just getting around to doing my post.

My DH will be home either late tonight or early in the morning and will have to leave out again tomorrow to go up North and then he will be back home on Friday morning and he will be off because he is taking his vacation next week so we can go to Branson, MO with my Parents, Sister, and the girls. So, first part of next week I won't have to be setting any alarms to get up early. LOL. I'll have to set it on Tuesday as I have 2 Doctor's appointments that day and then on Thursday,since that is the day we will be leaving to go to Branson, MO. Hopefully I will be able to sleep in the rest of the time. LOL.

Guess I had better go for now. I have some jeans to put in the dryer and I need to do some other things. Again, "HAPPY ST. PATRICK'S DAY"!!!! to each and everyone of you. Take care my friends and have a Terrific Tuesday. May GOD Bless you and yours. I'll be around shortly to visit with you.

Love,
KAREN H.