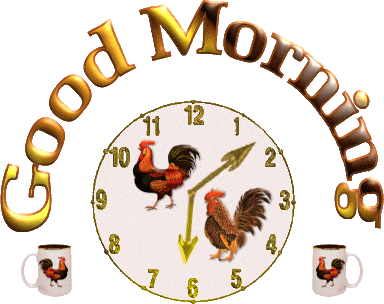 Good Mornin' Yall,
I do hope that everyone had a great Wednesday and ready to start a new day. It is currently 48 degrees with a windchill of 45 degrees. The winds are out of the East at 8mph. We have had some rain already early this morning and more is on the way for later on. We may even get some Severe Weather as well later this afternoon and tonight. More heavy rain is possible as well. The area's that got flooded a week or so ago, maybe in for some more flooding as well. We are already under a Flash Flood Watch thru tomorrow evening. If it keeps all this raining up, we may have to build an ark. LOL. It seems that every Spring we get alot of rain, and then come Summer time, we don't get that much. I know the farmers are needing to get in the fields to start some planting, but hopefully all this rain will stop soon and they can get in the fields and start their planting.

I would like to "THANK" each and everyone of you for the prayers you said for my DH and his Uncle. I do appreciate them so very much. My Dh and his Uncle were finally able to leave Rawlins, WY, yesterday morning around 10:15a.m. They were told tho that there may still be some icy patches along I-80. But they took their time and made it to Salt Lake City finally yesterday afternoon. They had to wait a while to get unloaded since they had missed their regular appointment time on Monday. They did make it down to North Las Vegas on Tuesday night, but the place was closed. They finally got unloaded there in North Las Vegas yesterday morning and started heading back this way. They won't be able to make their Minnesota/Wisconsin run this week as it was suppose to be picked up in Memphis yesterday. They will be home sometime today and will have to leave out again on Sunday morning. This Friday, will be my DH's turn to go to Memphis and pick up their Salt Lake City load, but he will be back Friday afternoon. I will get him up early in the morning to go over there to pick it up. I was talking to him once last night and he said that this whole ordeal has just made them both sick. He said he will be so ready to get home today. I can't wait for him to get home today either. "THANK YOU" all again for your prayers.
I know there is a Trucker's Strike going on. So far, it hasn't affected their company yet. "PRAISE GOD" for that. The Company they work for is a very good Company and doesn't stay in debt with everyone. I think the strike is really affecting Owner/Operators and small Trucking Companies. Not only Diesel is very high, but regular gasoline for our vehicles are very high also. When I put gas in my truck on Monday, it was like $3.19 a gallon for regular unleaded gasoline. I just don't know how much more people are going to be able to take. Not only is gasoline sky high, basic groceries such as bread, milk, and other things are going thru the roof. It is really hard on poor folks like us. It's getting to the point where a family of 4 can barely live anymore. I also know how hard it is on the folks who are on a fixed income. Everything is going up but their checks they get each month. Even if they do get a small raise in their monthly checks, their rent or something else goes up and they don't really get that extra money like they should. Our Country is in such a mess right now and we all need to pray that something will give and make it easier on us poor folks. Maybe I should run for President and straighten things out. LOL. Just kidding there and trying to make a little humor so I don't get so mad here. Okay, I'll stop griping and preaching now.
Our oldest daughter's softball game was cancelled on Tuesday night. I was hoping it would be because it was still very muddy on the field. For our supper Tuesday night, I fixed a big bowl of Tunafish for us to have sandwiches. Me and the girls love Tunafish sandwiches. I had to go pick up our youngest daughter from School yesterday afternoon. The School Nurse had called and said she was complaining with her stomach hurting. I asked the Secretary is the stomach flu was still going around and she said it was some. I brought her home and gave her a Pepto-Bismal tablet and she laid around for a while. When our oldest daughter came in from School, our youngest daughter was starting to feel warm, so I took her temperature and she had a low grade fever so I gave her some Advil. It had broken before Church started last night and she went ahead and went to Church.

Well, guess I will go for now and drink my coffee. I will do my best to get around and visit with each one of you sometime today. Take care my Friends and have a great day. May God Bless Each and Everyone of You.
LOVE & HUGS,