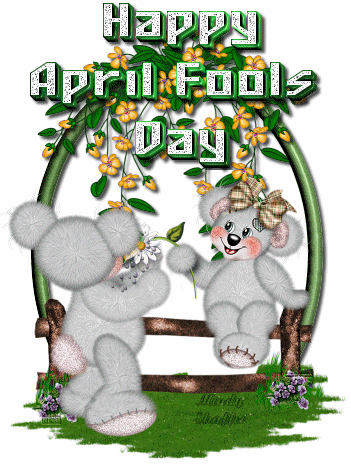 Good Mornin' Yall,"HAPPY APRIL FOOL'S DAY"!!!! I hope that everyone had a great Monday and ready to start a new day. It is currently 59 degrees and the winds are out of the Southwest at 5mph. We have had plenty of rain the last couple of days around here. Sunday, it rained pretty much off and on all day. It started raining here again yesterday afternoon. It never got real bad around here, but they did put us under a Thunderstorm Warning once last night. It was due to some hail. We didn't get any hail around here where I live at, but some places got some hail. Rain is back in the forecast for tomorrow night and on Thursday as well. The high today is only suppose to be around 61 degrees. March came in like a lion and went out like a lion as well. I think this has to be one of the rainiest March's we have had in a long time.

I would like to ask for a Prayer request. I would like for yall to pray for my DH and his Uncle. They left here Sunday morning around 5:00a.m. heading to Salt Lake City. My DH started out driving and drove to Bolivar, MO. His Uncle took it from there and drove to Big Springs, NE. That is where my DH took over. Well, shortly after my DH got around Cheyenne, WY, he seen a sign where it said the road was closed 3 miles ahead. They had to shut down on I-80 because of the weather conditions there in Wyoming. Yesterday morning, my DH's Uncle drove about 200 miles and had to shut down again. They were between Laramie and Rawlins, WY. I think they were like 25 miles from Rawlins at this point. He sat there from 11:45a.m. yesterday morning, till around 8:30p.m. last night before they could even move. Anyway, the last time I talked to my DH was around 11:00p.m. last night and they had been moved down the Interstate a little ways where they would be close to an area where they could get fuel or something to eat if needed. The Police were helping people get to a place like that. The Police Officer did tell my DH that it could be a couple of days before they would be able to leave from there. They are now close to a Diner and had to walk to it last night to get something to eat. There have been multiple pile-ups and other weather conditions there and that is what has caused them to get shut down. I don't know when they will be able to deliver their load to Salt Lake City. I just want yall to pray for them as they are stranded out there in Wyoming and pray that they will be able to start back traveling soon. They have had to shut down before in the past, but nothing as bad as this time. "THANK YOU" all so much for your prayers for my DH and his Uncle. I just worry so much about him and his Uncle especially this time. I'm not even sure they will be able to get their load that goes up to Minnesota this week or not. I do know they won't be home later tonight like they normally are. Their Driver Manager is aware of the situation as well.

I didn't get to go to the Baby Shower on Sunday afternoon. Sunday morning when I first got up I was feeling a little sick to my stomach. I thought it would pass, but it never did. It felt like I was going to have to throw up all day long, but I never did. I also had a bit of diarrhea as well. I finally started feeling better later on Sunday evening. The girls did go to the shower with my MIL. I didn't sleep good at all on Sunday night either. It was around 3:00a.m. before I finally went to sleep. After I took the girls to School yesterday morning, I came home and ate me a bowl of cereal and went back to bed.

Our youngest daughter had softball practice after School yesterday. It sprinkled some while they were practicing. They couldn't practice on the field as it still had water on it, but they did practice in the outfield for about an hour. Our oldest daughter didn't have practice last night. Yesterday was one of my nephew's Birthday. He turned 14 years old. We had went out to their house around 5:30p.m. yesterday and had supper and Birthday Cake and Ice Cream. We finally came home around 7:30p.m. last night. Our oldest daughter is suppose to have a game here tonight, but I don't know if the field will be too wet or not. I imagine after the rain we got last night, it may be too wet. I know yesterday afternoon, it still had water on the field, so we will have to wait and see. I know they both have a game here on Friday night as well and then they have to finish their Pre-Season Tournament on Saturday. Since more rain is in the forecast, we will just have to wait and see what happens.

Well, guess I will go for now. I think I will go and visit a bit. I am having my first cup of coffee this morning. I had my alarm set to go off at 4:45a.m., but I reset it to 5:45a.m. I just can't seem to get up as early like I used to. Take care my friends and have a great day. May God Bless Each and Everyone of You.LOVE & HUGS,