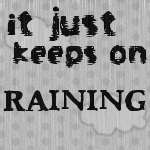 Good Mornin' Yall,
I hope everyone has had a good weekend and ready to start a new day. It is currently 48 degrees with a windchill of 45 degrees. The winds are out of the East at 7mph. We have some fog here and some rain. It has rained pretty much all weekend here. We are to be getting some more rain tomorrow and possibly some severe weather at that. Seems like every Spring we get alot of rain around here and then when Summer arrives, it is hot and dry. I guess that is expected here in the South.

Sorry I haven't been posting like I normally do, but life around here has been busy. I just can't make myself get up very early in the mornings like I used to. Then this past weekend was busy with Softball Tournaments and then my DH was home. Then nothing much else has been happening around here, so there's not much to blog about. I think I am just going to try and post maybe every other day. I don't know really, I'll just have to wait and see and see what goes on around here.

My DH made it home Friday morning around 7:45a.m. He was really tired and he went to bed to get him some sleep. I went back to bed for a while too after I took the girls to School. The girls got out of School early on Thursday afternoon. It was Parent/Teacher Conference Day starting at 2:30p.m. They got out of School at 2:00p.m. that day. I went out to the School around 4:30p.m. and got their Report Cards. Both of the girls had good grades. Our youngest daughter made the A/B Honor Roll. Our oldest daughter had all A's and B's except she got a couple of C's. She has always had some trouble with the Math, so that is where she always gets a C. They try and teach kids alot of hard stuff these days. I told one of the teachers on Thursday afternoon that if they were to go back to the Basic's like it was when I was in School, that I think the Students would learn alot more and make better grades. She agreed with me on that. Some of the Math our girls brings home these days, I didn't have till I was in Junior and Senior High School. They have them doing Algebra in Elementary School now and it's so much different than when I was in School. Half of the time, I have no clue how to work the problems they need help with on their homework. I have always told our girls to just do their best in School tho.

My DH went and picked the girls up from School on Friday. They normally ride the bus home from School, but we had to leave and be in Harrisburg at 5:30p.m. Our youngest daughter played her first game in the Pre-Season Tournament. Now these games are suppose to only last one hour and 15 minutes, but this game lasted 2 1/2 hours. They finally flipped a coin to see who won. Our youngest daughter's team lost in the flip of the coin. It was a good game and the score kept being tied up, so that is why the officials decided to flip a coin to see who won or lost. Since our team had lost, we were suppose to play another game right after that, but it started raining and was lightening, so they postponed it until Saturday morning. One of the men over the Softball League there in Harrisburg told our coach Friday night that he would check the field early Saturday morning and would call and let them know something around 7:00a.m. on Saturday. On our way home Friday night, just right before we got into Lake City, the bottom fell out. I mean it was raining hard. Lake City is where our oldest daughter was having her Pre-Season Tournament on Saturday. I figured they wouldn't play on Saturday. We came on home and went to bed that Friday night. I had gotten up around 5:30a.m. on Saturday morning and started some coffee. Our oldest daughter had to be in Lake City at 8:30a.m. because her game was to start at 9:00a.m. Our youngest daughter's Coach had called me and said they had re-scheduled their game to 10:00a.m. I had called our oldest daughter's Coach to see if they were going to be able to play and he said yes. So, we all headed to Lake City. My DH dropped me and our oldest daughter and my MIL off at the Softball field there in Lake City and then my DH and our youngest daughter headed out to Harrisburg. About 20 minutes after he had left, our youngest daughter's Coach had called me back to let me know they were going to wait and play at 12:00p.m. So, I called my DH back and told him and he was just getting into Jonesboro and so he turned around and came back to Lake City so he could watch our oldest daughter play her game. While we were watching our oldest daughter's team play, our youngest daughter's Coach called me again and said their team's game had been post-poned till next Saturday and it would be played in Trumann because Harrisburg had another Tournament scheduled for next weekend. So, our youngest daughter will be playing this coming Saturday at 8:30a.m. in the morning and she will have to be there at 8:00a.m. While our oldest daughter's team was playing, it started raining and lightening. The officials had them to get off the field for a while to see if it would quit. Well, it didn't. The rain just got harder. Everyone was going and getting in their vehicles because everyone was already wet. As we were leaving, I seen our oldest daughter's Coach and asked him when they were going to finish the game and he told me they would play today. There was only 25 minutes left of the game to play and we were winning 10-6. After we left the ball field, we stopped by the Tax Office there in Lake City where we always file our taxes. I had the stuff ready and had brought it with us. Me and my DH just knew we were going to have to pay in this year, but lo and behold, we are actually getting a little back this year. That totally shocked us both. We will be getting some back on Federal as well as State. Then on and around May 9th or May 12th, we will be getting our Stimulus Check from the Government back. Now let me tell yall, when they first started telling about this refund from the Government on T.V., they said that married couples filing jointly would get back $1,200 plus $300 for each child. So, we were figuring on getting back around $1, 800 on that refund. Well that is just a bunch of bull and it's not true. It all depends on your Income Tax that you file on. So, we won't be getting no $1, 800 back. Instead, we will be getting back $1, 200 on that Stimulus refund from the Government. I am "THANKFUL" for that amount tho, but they shouldn't be giving out false information on t.v. and letting people think they will be getting that much back. After we finished at the Tax Office, we came home. Everyone was still a little wet, so we changed clothes and then layed down to take a nap. Later on, me and my DH and the girls went to Manila to eat Mexican Food. It's the place where me and my DH had went to for our Valentine's meal that I had told about. That was the first time the girls had been there and they loved it just like we did our first time. We had some food left, so we brought it home and there is enough for me and the girl's lunch today. We came back home after we had eaten, and my DH went to bed. I had to wash some jeans so my DH could have some clean jeans for when he left out this morning. I finally went to bed around 9:30p.m. last night and then had to get up at 3:45a.m. this morning to start some coffee and get my DH up at 4:00a.m. He left around 5:00a.m. heading to Salt Lake City. I think they maybe running into some Snow in Nebraska and Wyoming this time. I sure hope it doesn't shut them down on I-80 like it has before. But anyway, next week and next weekend is busy for us again as well. Our oldest daughter has a Softball game here on Tuesday night and both of the girls have a game here on Friday night. Then, on Saturday morning, we all have to get up early again for them to finish the Pre-Season Tournaments. I just hope it doesn't rain or is cold like it was this past weekend. We had to take a blanket with us on Friday night and Saturday morning because it was just cold outside. I had the girls to wear a Hoodie under their Ball Shirts so they would stay warm. I know Friday night, my throat started getting soar and was soar off and on on Saturday as well. It's still a little scratchy this morning, but I'll be surprised if no one gets sick after being out in the cold and getting wet on Saturday. To me, they start the Softball Season way too early and it will be over with at the end of May. They need to start it like in the middle of April and let it go thru at least June.

Well, guess I'll go for now. The thunder and lightening is getting a little closer and louder. I may have to turn my computer off for a while. I'll try to get around and visit today sometime. Me and the girls have a Baby Shower to go to this afternoon. Take care my friends and have a great day. May God Bless Each and Everyone of You.
LOVE & HUGS,