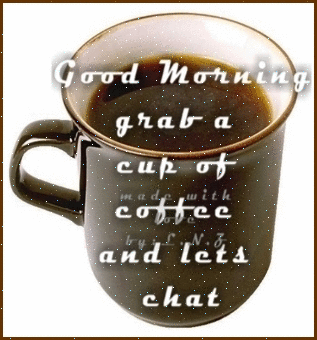 Good Mornin' Yall,
I do hope everyone had a great Tuesday and ready to start a new day. It is currently 28 degrees and the winds are calm this morning. So, therefore, we have no windchill right now. Well, did anyone get any Snow yesterday? When I had done my post yesterday morning, we were under a Winter Weather Advisory. When I took the girls to School yesterday morning, we were only getting a little Freezing Rain. It wasn't nothing major but you could see it on the power lines and some of the Pine Trees. My Mother had called me around 8:30a.m. yesterday morning and wanted to know if it was Snowing here. I told her not that I knew of. She said she had just looked out her Kitchen window and said it was Snowing there. Well, I went and looked out my Kitchen window as well and lo and behold, it was Snowing. Yeap, it was Snowing here. Now don't get all excited, it was coming down fairly good but the flakes weren't that big. It did accumulate just a bit on some things outside and a little here and there on the grass, but it wasn't even a dusting. But, it Snowed and that's what counts right? LOL. I did take a picture of it with my Cell Phone, but I am going to wait and show it on Friday for a Photo Phun picture. It was really cold yesterday as well. At noon it was only 30 degrees. Late yesterday afternoon it did make it up to 34 degrees. This week so far has been like being on a Rollercoaster and the rest of the week appears to be the same. Today it's suppose to get up to around 53 degrees and then cold again tomorrow and then on Friday, guess what? Another chance for some Wintry Mix. It looks like March came in like a lamb, but it is now being a lion. LOL. Who knows how the rest of the month will be.

The Gas Company guy called me yesterday morning and was wanting me to meet him over at the other house so he could turn the gas on. I went over there and when I was driving up the Water Department guy was pulling up also. The water got turned on, but the Gas Company guy said it would be better to wait and turn the gas on when the Electric Company comes out today and turns the electricity on. He said that way he could light the furnace and make sure it will work. I said that would be okay. So, today sometime, the gas and electricity will be turned on at the other house. I called the Cable Company yesterday afternoon and they will transfer the Cable and Internet Services on over there on Monday. So, I will be posting thru Friday morning. Hopefully I will get back to my regular posting on Tuesday morning. It's not going to be as long as a wait as I had figured it would be.

Since I was in and out for part of the day yesterday, I didn't do no major cooking. Nope, not last night I didn't. The girls had their after School Tutoring and when they got home they wanted to go see the other house so I took them over there. When we left there, we went by the store and I bought a frozen pizza and some hot pockets and that is what I fixed for our supper last night. I was also very tired and sleepy by then since I had been up since 1:30a.m. yesterday morning. I didn't even get to take me a nap during the day, so around 7:15p.m. I was ready for the bed. I went to bed and my DH called me just shortly after I had layed down and he was about 48 miles into the state of Arkansas. I told him I was going to sleep and to call me before he got to the house so I could get up and unlock the door for him. He has a key, but I want to know it's him fixing to come in the house and not someone else. LOL. He didn't have to call me. I woke up around 11:20p.m. and I called him. He was in town and fixing to drop his Uncle off at his house. I got on up and came in the front room and waited on him. He got to the house around 11:30p.m. There was a couple of pieces of Pizza left from our supper, so he ate that and we sat up and talked for about an hour and went to bed. I woke up around 4:10a.m. and I started my coffee. I have to get my DH up around 11:00a.m. so he can get ready to head out.

I went to the Post Office yesterday afternoon around 3:15p.m. and checked the mail. I got my new NOAA Weather Radio in . It is really nice. I still have to read the instructions and figure out how to set everything, but I will probably do it sometime today. I have laundry to do today as well. I also have a doctor's appointment at 1:00p.m. today also. It's just a regular check-up I have for my Diabetes. It's time for me to have my prescription's re-filled, so I have to go and let them check me out. I don't have to drive very far to my doctor. The office is in Monette, AR, which is about 10 miles from where we live.

Well, guess I will go for now. I didn't visit very much yesterday at all. I did make my rounds yesterday morning, but some hadn't posted while I was on the computer, so I need to try and catch up with everyone again. Just know I have some coffee waiting on you here and if I'm not here, just help yourself to a cup of coffee. If you don't like coffee, there is some Chamomile Instant Tea for you to have. Take care my friends and have a great day. May God Bless You and Yours.


LOVE & HUGS,