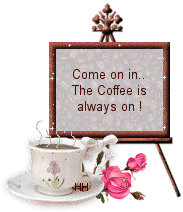 Good Mornin' Yall, I do hope that everyone had a great Monday and ready to start a new day. It is currently 33 degrees with a windchill of 20 degrees. The winds are out of the North Northeast at 16mph with gust's up to 25mph. I looked out my Kitchen window a few minutes ago and it's not doing anything outside. Yesterday we had rain. We had some heavy rains. It rained all day and it was still raining when I went to bed last night around 9:00p.m. Have I mentioned that we got some rain yesterday? LOL. Yall, the bottom fell out and I bet we got about 4 or 5 inches of rain here yesterday and last night. We were under a Flash Flood Warning until 3:30p.m. yesterday and it was extended until 9:30p.m. last night. We are still under one but it's due to the River's rising some around here tho. I also noticed that we are under a Winter Weather Advisory until noon today. Hmmmm, are they telling me something I don't know? LOL. Our local weather guy did say on the 6:00pm. forecast that we could see a dusting of Snow around here. Places to our North could get 3 to 5 inches of Snow. But since this is Arkansas, we will have to wait and see what happens. I'm not going to hold my breath for any Snow. LOL. I won't believe it till I actually see it.

I would like to "THANK" each and everyone that took the time yesterday to go and visit my friend, LeeAnn@ http://gentleoutsider.blogspot.com/ yesterday. I noticed last night before I went to bed that she was so excited about all the visitors that dropped by. I knew I could count on all of my friends here in blogland to go and visit her and leave her some words of encouragement. "THANK YOU" all again so much. I know LeeAnn appreciated it very much and I did as well.

Our Landlord came out yesterday afternoon and I signed the new Rental Lease on our other house. I got the key to it as well. He had told my DH on the phone Saturday night that we wouldn't have to put up another deposit on the house. "PRAISE GOD" for that. He did have me to write him a check for a deposit, but said he would give it back to me this weekend. It's a security in case I don't clean up the house we are living in now and have it like it was when we moved in here. Of course after we get everything out, I will clean it up. After he left, I called the Water Department and Gas Company and they are going to transfer those utilities sometime today. It will be Wednesday before the Electric Company comes out to transfer the electricity. It will be next week before I can have the Cable & Internet transferred. So, it looks like I will be able to post for most of the week. So, I am going to be moving some small stuff this week and on Saturday, my DH will get someone to help him move all of the big things. Hopefully we will have everything moved out by late Saturday afternoon. I can then come over here on Sunday and clean this house up. The utilities will still be on here till we are all done. I will just have to call the utility companies and let them know when to turn things off here. I am excited about the move, but it's the moving part I always dread.

I fixed me and the girls some Ramen Noodles for our supper last night. Me and our youngest daughter had a can of Vienna Sausages to go with ours also. Since it was raining so hard, I didn't want to get out in the rain and have to go to the store. I did get out yesterday afternoon after our Landlord left and went to the Dollar General Store. I had to get some cereal, milk, and some more coffee and a few other things. I got soaking wet getting in and out of the vehicle. Also, instead of the girls riding the bus home, I called out to the School and told the Secretary to tell them I would be out in the car line to pick them up. They have a big awning by the West door you can pull up under so they don't get wet. After I picked them up, we came home and stayed in for the rest of the afternoon and evening. I'm not sure what I will fix for our supper tonight just yet. I know it needs to be something warm and comforting tho. Also, since my DH will be home sometime late tonight, he will get to have another home cooked meal as well.

The last time I talked to my DH last night was around 9:00p.m. last night and they had already left North Las Vegas and he was headed down to Kingman, AZ, to get on to Interstate 40. He is kind of low on minutes and he said he would call me this morning before he goes to bed. I will have to get him some more minutes before he leaves out going up North tomorrow. I just hope that Interstate 40 isn't Snow covered in the Northwest part of the state.


I would like for everyone to keep some of our blogging friends in their Prayers. There have been so many that has had that flu bug that's been going around. Mary@ http://maryswritingnook.blogspot.com/ has had it and she is feeling some better. My friend, Anne@ http://mamasfamilylife.blogspot.com/ had it last week and she is feeling better as well. Also, Hope@ http://secondtimearoundhope.blogspot.com/ found out last Friday that she is a Diabetic. She has been put on medicine, but I don't think her body is adjusting to it just yet. I know there are many others out here in blogland that are sick or have been sick, so when you are praying, please pray for everyone and the one's I have mentioned above. This is one thing I really love about my friends here in blogland, you can always count on them for Prayers. We all know that Prayer is Powerful and Prayers do work.

Well, guess I'll go for now. I woke up around 1:30a.m. and I am on my second cup of coffee. I am going to go start my visiting as some had not posted early like me yesterday. I am going to be making my rounds early this morning. LOL. I'll do my best not to disturb you when I stop by. Take care my friends and have a great day. May God Bless You and Yours.


LOVE & HUGS, KAREN H. NOTE: For some reason blogger isn't letting me upload my signature, so I just typed in my name. We all know how blogger can be sometimes.