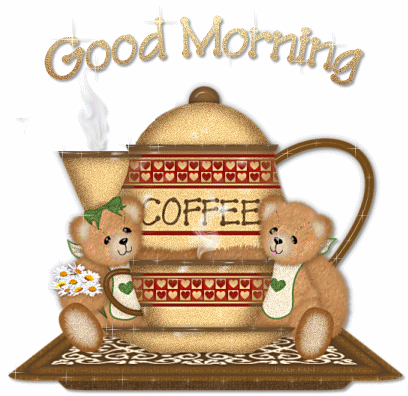 Good Mornin' Yall,
I do hope everyone had a Blessed Sunday and ready to start a new day. It is currently 60 degrees with a windchill of 57 degrees. The winds are out of the South at 16mph. Yesterday was a really nice day and on the windy side. We were under a Wind Advisory until 7:00p.m. last night. There is some rain on the Radar this morning and it appears we may have some Severe Storms today. I sure hope not. The National Weather Service has us under a slight risk for some Severe Storms tho. It is suppose to turn cold again later tonight and tomorrow as well. I think the high tomorrow is only suppose to be only 34 or 35 degrees. That will be a big change from the Spring like temperatures we had over the weekend. Now don't go getting all excited for us here now, but we may even get a little dusting of Snow tomorrow. Shhhh, don't go jinxing us just yet. LOL. I'm not getting my hopes up because everytime they mention the "S" word, it goes all around us. I do know that some counties to our North and West of us are under a Winter Storm Watch already. We will just have to wait and see what happens. I just don't want anything severe tho.


I forgot to mention something yesterday on my post. First of all, I would like to "THANK" each and everyone of you for the prayers's for my MIL. She went to the doctor on Friday for her Mammogram and it showed no lump. "PRAISE GOD" for answered prayers. They told her the Mammogram was just like it was last year and there were no signs of any lumps or anything and told her they would see her again next year. She will really happy to hear that. It's always good to be on the safe side tho and she did the right thing by going to the doctor to have it checked out. "THANK YOU" all again for your very much appreciated prayers.



I want to let yall know about a new blogger friend. Actually I have been visiting her for some time now, but she has been down and has had no visitors except for me. She is thinking of quitting blogging, but I would like for yall to take some time and go visit LeeAnn@ http://gentleoutsider.blogspot.com/. She is a Christian Woman and a Southern Woman as well. She is very nice and I know you would enjoy visiting her as well. So PLEASE, if you have some time, go and visit LeeAnn and make her feel Welcome and leave her some words of encouragement. I would really appreciate it and I know she would too. She is also a Grandma of Twin Girls. They were born last year and she is one proud Grandma. They were born in December and were a bit premature, but they have since gone home and are doing very well and growing.

The girls went to their Cousin's Birthday Party yesterday afternoon. I was too tired and sleepy to go, so I called my MIL and asked her to come pick them up and take them out there with her. I had to get me a nap. LOL. I'm like my coffee when I don't get my sleep. I be one grouchy woman and hard to get along with. They were only gone for about an hour because the boys had Baseball Practice at 1:30p.m. The girls said they had grilled some Hot Dogs and had Cake and Ice Cream. My MIL told me when she brought them home that the girls didn't eat much. I told her they were probably still full from eating at Church. We have our Church Service first and then they have a short fellowship with foods and coffee and then have Sunday School. They usually have some good breakfast foods and the girls usually eat quite a bit since they don't get up in time to eat breakfast at home before they go to Church. They don't like getting up early since they have to during the week, so they try to sleep in as much as they can and wait to get up on Sunday's just to have enough time to get ready.



We didn't do very much yesterday afternoon. After the girls got home from the Birthday Party, we just layed around and watched t.v. They played some games on their computer in our youngest daughter's bedroom. I did go outside late yesterday afternoon and sat outside talking to my neighbors for a bit. We had sandwiches for our supper. My DH left out around 5:00a.m. yesterday morning heading to Salt Lake City. He called me around 8:10a.m. and said he called to just hear my voice. I thought that was so romantic and it just touched my heart. He called me back around 11:00a.m. to let me know they had switched out and he was going to bed. We really do miss each other when we are apart, but I know and understand he has to be gone to make a living for us.


Well, guess I will go for now and see who is up and who isn't. If you hear someone knocking on your door, it will be me. LOL. I'll try not to disturb you tho. Just have the coffee ready for me. Take care my friends and have a great day. May God Bless You and Yours.



LOVE & HUGS,