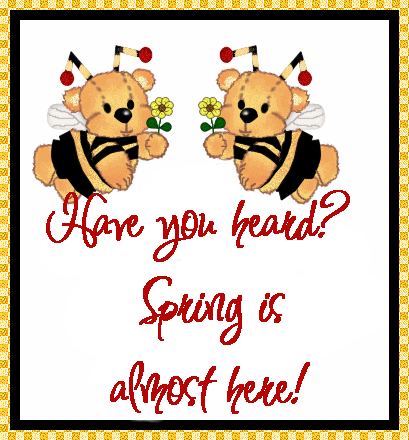 Good Mornin' Yall,

Well, I hope that everyone had a great Wednesday and ready to start a new day. It is currently 40 degrees with a windchill of 36 degrees. The winds are out of the North at 7mph. We had a pretty nice day yesterday. The Sun shone and it made it up to 50 degrees. It was a tad bit on the windy side, but nothing too bad. Oh, I have seen it windy before. Clouds are suppose to start moving in sometime today and start raining again. Then later tonight, it is suppose to turn to SNOW!!!! Yes Maam', that's what they are saying. We will be under a Winter Storm Watch beginning tonight and going thru tomorrow evening. They are saying we could get anywhere from 2 to 5 inches of SNOW. So maybe, just maybe, keep your fingers crossed for me here, LOL, we may get some measureable SNOW this time. But, weather is always changing, so we will have to wait and see what it does.


I went to see the doctor yesterday. They took some blood from my finger and did some kind of test for my blood sugar. She came back in and told me that one of my levels, I can't remember what it was, but it was 8.4 and they like it to be under 7. She increased my pill intake to 2 in the mornings and still 1 at night. I have to go back and see her in 3 months. Other than that, I was just fine.
Today is "THANKFUL THURSDAY". It is hosted by Iris@ http://eph2810.com/. If you would like to participate, please go visit Iris and sign the Mr. Linky and leave Iris a comment and then post your "THANKFUL THURSDAY". Today's "THANKFUL THURSDAY" is about TRUTH. Wow, is that ever a big word there. I don't like it when people don't tell me the TRUTH. Sometimes I can tell if a person is lying to me or telling me the TRUTH. There's just something about them when they are talking to me that makes me know the difference. JESUS said to him, "I am the way, and the TRUTH, and the life. No one comes to the FATHER except thru ME. (John 14:6). I am "THANKFUL" that GOD is the TRUTH. I am "THANKFUL" that JESUS died for my sins so that I am able to know the TRUTH. I am a sinner and I fall short of HIS Glory, but I am "THANKFUL" that GOD forgives me when I fail HIM. I am "THANKFUL" for our Freedom that we have to be able to read GOD'S TRUTH. I do my best to follow GOD'S TRUTH, but sometimes I stumble and fall down. But GOD'S TRUTH is there to pick me back up. What do you have to be "THANKFUL" for on this "THANKFUL THURSDAY"? Please feel free to let me know what you are "THANKFUL" for in my comment section if you would like.

I didn't cook again last night. LOL. I know, I've been lagging in the cooking department lately, but I just haven't felt like doing alot of cooking. My Parents had gone to Jonesboro yesterday to do their monthly grocery shopping. As I was on my way to the doctor I called my Mom and asked her to pick me up some of my Diet Caffeine Free Soda's that I drink and a case of Water for the girls. They got here to the house just as the girls were getting home from School. They had bought us more than the soda's and water I had asked for. They had bought us 5 packages of Bryan Bologna and Hot Dogs. We also got some ground chuch, 5 cans of Pringles, Ice Cream, Banana's, and some Easter Cakes for the girls. So for our supper last night, we had bologna sandwiches and some chips. I sure did appreciate it. All that bologna will come in handy this weekend if we get to move. LOL. I don't like to have alot of stuff cooked in the refridgerator while we are moving. I have a Stainless Steel, side by side, with water and ice thru the door, refridgerator. Oh, I love it. The doors has to be taken off during the move and then I have to take everything out of the freezer and fridge, so I don't like to have alot of stuff in the fridge part.

The Gas Company guy will be out sometime today to turn the gas on over at the other house. They came out yesterday morning and turned the electricity on. I will start moving some small things after the gas is turned on because it is cold in the house over there. I think my Mom is suppose to come up and help me move some things as well.

I talked to my DH last night around 9:45p.m. and he was fixing to go to bed. He is driving days until they come home. Him and his Uncle decided to do some switching up in the driving department so it would be a change for them. He told me he would call me this morning when he got up. When he called, they were up North of St. Louis, MO, and his Uncle would be taking the load up to the place in White Bear Lake, MN. I went and got him some minutes for his Cell Phone yesterday afternoon, so he will be calling me thru out the day today.

Yesterday afternoon when I was fixing to go into the doctor's office I seen the UPS Truck out front of the doctor's office. I seen a lady fixing to go into the truck and I asked her if she delivered to Caraway. She said she did. I told her I was expecting a package and she wanted to know my physical address, so I told her. She looked inside and I had a package. It was my new Digital Camera. After I got out of the doctor's office, I called my DH and told him I had gotten it. He told me not to open it until he got home. LOL. He said he would look at it Friday evening and install the software to my computer. I'm thinking he is more excited about the camera than I am. LOL. He knows more about doing all those things than I do, so I will wait until he comes on and look at it.

Well, guess I will go for now. I have just started drinking my first cup of coffee. I will start my visiting and see who is up and who isn't. Take care my friends and have a great day. May God Bless You and Yours.


LOVE & HUGS,