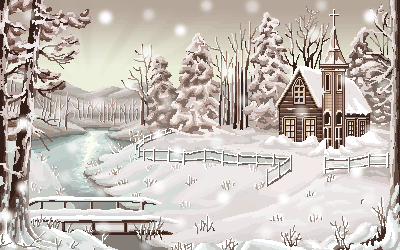 Good Mornin' Yall,

I hope everyone had a great Friday and ready to start a new day. It is currently 30 degrees with a windchill of 24 degrees. The winds are out of the Northwest at 6mph. Guess what yall? We are SNOWED in!!!! Yeap, we sure are. It started snowing here yesterday around 11:30a.m. and I seen on our local T.V. Station where they were letting School out here at 12:15p.m It was a heavy Snow, but I never saw any BIG Snowflakes. By 3:00p.m. yesterday afternoon, we had enough Snow to play in and try to build a Snowman. My DH made it home from Memphis around 3:30p.m. He had called me a little before 3:00p.m. and said he was leaving Lepanto, which is my hometown and only 11 miles from where we live, and he said he couldn't even see the road. He said he was having to drive in the middle. Now what is normally a 15 minute drive, it took him about 35 minutes to get that far. The girls were already outside playing in it and after my DH got home they all came in and warmed up a bit and then my DH and our youngest daughter went out and tried to make a Snowman, but it was too wet. Hopefully today they can make one. It was really cold yesterday as well. The temperatures pretty much dropped all day and the winds were blowing something fierce. I made the girls bundle up real good before going outside to play in it. I'm sure they will have a good time in it today tho. It's suppose to be Sunny and up to around 35 degrees today.


It doesn't look like we will be moving today. There is just too much Snow. I FINALLY GOT MY SNOW THO!!!! It just came at the wrong time. LOL. Oh well, I plan to enjoy it while we do have it. My DH told me that I will have to pay his cousin and someone else to move us next week. I guess that will be better because by the middle of next week, it's suppose to be up around 60 degrees. Everyone is still asleep this morning, so I will have to wait until my DH gets up to see if he wants to try to move or not. If we don't, I will post tomorrow.

Yesterday afternoon my DH and the girls had gone up town to get some things and while they were gone, I finally gave in and opened up my new Digital Camera. Oh yeah, I was wanting to take some pictures of the Snow. Well lo and behold, I wasn't able to. The re-chargeable batteries that came with it had to be charged up. I put them on charge and took them off a bit ago when I first got up. I put them in the camera and I will continue to read the instructions here in a little bit and when it gets daylight, I will go out and take some pictures. My DH still has to hook the USB Cable cord up to the computer, but I installed the Software on it yesterday afternoon while he was sitting in his recliner. So, if we don't move and I post tomorrow, I will share some pictures of our SNOW. It's a really neat camera. I was reading the instructions yesterday and it even has a movie mode. Here is a picture of it for some of you that didn't see a picture of it before.
It is a Fujifilm E900 Series. I am really excited about getting to use it now. Now I have no excuse to share pictures with yall. LOL. I'm just going to have to get used to taking the camera with me when I go places.

Well, guess I'll go for now and start me some coffee. I am going to go and visit some of you that I missed yesterday. Too bad everyone doesn't get up as early as I do and post. LOL. But I will be around to visit you sometime today. Like I said previously, I'm not sure if we will try and move today or not, but I doubt we will get to. It just depends on what my DH decides to do when he gets up. I don't know how much Snow we got. I'll have to wait till it gets daylight and take a ruler outside and measure it. I know there is alot out there tho. Take care my friends and have a great day. May God Bless You and Yours.


LOVE & HUGS,