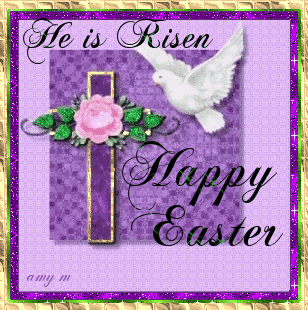 Good Mornin' Yall,

"HAPPY EASTER" everyone. "PRAISE THE LORD, HE IS RISEN"!!!! I do hope that everyone has had a wonderful weekend and ready to start a new day. It is currently 35 degrees and the winds are calm. We had another beautiful day yesterday. It was on the windy side a bit, but other than that, it was a nice day. Today the high is suppose to be around 54 degrees and down to 32 degrees tonight. I think Winter is still trying to hang around a bit. At least the rains have stopped for a while and some of the rivers are starting to recede a bit. Let's not stop praying for the ones that have been affected by all the floods as they will still have a long road to recovery.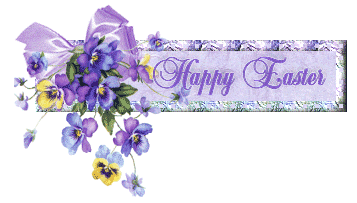 My DH had called me on Friday morning around 5:00a.m. and wanted to know if I had some coffee ready. I told him I didn't as I was still in bed. I told him I would get up and start a pot for him. He got to the house around 5:15a.m. and got him a cup of coffee and headed to Memphis to drop the load they had and to pick up their Salt Lake City load. He got back to the house from Memphis around 2:30p.m. Friday afternoon. We sat around a while and figured out what we were going to do. I told him that I was really wanting a hair cut and to go out to eat. We got ready and we went to Jonesboro and went to the mall. I got my hair cut at a place in the mall and after we were done there, we went to eat. We ate at TaMolley's. It is a Mexican Restaurant. We had the Beef Fajita's for two. Ohmygosh yall, there was alot of beef on the platter they brought out. We couldn't eat it all, so we brought the rest of it home. It was so good tho. I had ordered a large bowl of Guacamole Dip and my DH ordered a small bowl of White Cheese Dip. I just love Guacamole Dip and can never get enough of it. LOL. After we had finished eating, we came home and it was around 9:30p.m. when we got home. While I was in the mall getting my hair cut, my DH had went to a couple of stores there in the mall and looked at some Routers. He found one at Target and after I was done with getting my hair cut, we went back to Target and bought it. We have 2 computers and in the other house the other one had been in our youngest daughter's bedroom. It wasn't hooked up to the Internet, so they just played some games on the computer and they would sometimes argue over the computer. When I found out we were going to move to this house, I told them the computer wasn't going into either of their bedrooms. Now, it is down from mine over in the corner of the Dining Room. They had been wanting it hooked up to the Internet because I won't let them get on mine. So, that is why my DH bought the Router and when we got home Friday night, he hooked the other computer up to the Internet. He said he wasn't going to tell them it was hooked up to the Internet and that he would tell them he had a surprise for them. Saturday when we went to my Birthday Party, he told them he had a surprise for them. Oh my, you should have heard them. LOL. They were guessing all kinds of things it might be. Our youngest daughter did guess it once, but my DH told her no, that wasn't it. LOL. On the way home, we told them they had to hunt for their surprise. They had to help unload the truck first before hunting for it. After they figured it out, they were really surprised and happy. To keep them from fighting, their Daddy told them they could be on the Internet only 30 minutes at a time. So, hopefully I won't have to hear any arguing. LOL.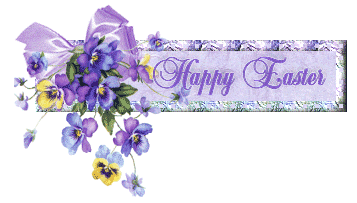 My Birthday Party turned out to be a very good party. I did act surprised. The young guy that works with my Dad at the Funeral Home, was there also along with his Family. His Birthday was on March 15th and he turned 21. His Dad did all the cooking. He cooked hamburgers, hot dogs, smoked sausages, ribs, boston butt, and even barbequed a stick of bologna. LOL. Yeap, he sure did. We also had some potato salad, baked beans, and all kinds of chips and some rotel dip. There were even some grilled onions. My Sister had bought 2 Birthday Cakes. One was for me and had my name on it and the other one had the young guy and his brother's name on it. He as a twin, so it was both of their birthday's on the 15th. We had Sweet Tea and unsweetened Tea and all kind of soda's to drink. My DH took some pictures and I'm going to share them with you.
The picture above is a picture of my Birthday cake. It was a white cake and had this icing on it. Oh, it was so good. There was even some left and I brought it home with me.
This is Dakota's (the young guy that works with my Dad) and his brother, Dillion's Birthday Cake. It was a chocolate cake and had this icing on top. I didn't eat any of this cake as I was full from all the food and my piece of cake. Below is some pictures of all the food we had to eat.
Mmmm, doesn't this all look so good? Would you care for a hot dog or smoked sausage?
Potato Salad or Baked Beans anyone?
How about a Hamburger? They were so good. Please, help yourself to some of this good food. There is plenty.
This is how they had the table set up for the Birthday Cakes. My Sister even decorated the poster's with our names on them. She even had some confetti spreaded all over the table.
A picture of the Birthday people. Dakota is on the left, his brother, Dillon, is in the middle, and I'm not sure who the lady on the end is. LOL. That is me with my new hairdo. I felt bad and didn't feel like wetting my hair Saturday morning, but it was still pretty. That was the first thing our girls noticed about me when I got there. They said, oh momma, your hair is so pretty. It was a tad bit chilly inside the Family Life Center and that is why I had my jacket on.
Another shot of the Birthday people. I was looking down at my cake I guess. LOL. Below is just some random shots my DH took.
Looks like some hungry folks there in line huh? LOL.
Can you folks please hurry up and fill your plates? LOL.
This picture is of our girls and my sister. I'm sitting down there to the left. That's my Dad in the background at the counter. Well, I hope you enjoyed yourself at my Birthday Party. I am so glad you stopped by. I just hope you got enough to eat. LOL. There were some more pictures taken, but mostly the same ones I have already shown. I do hope you can click on these now and enlarge them. I had to change the settings when uploading the pictures.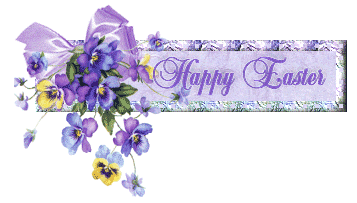 I had to get up at 3:45a.m. this morning and start some coffee and then get my DH up so he could get ready to head out. He left the house around 5:00a.m. Where we live at now, it is closer to where they park their truck. I can stand at my front door and see him leaving or coming in. They have already gone. I do think they are going to be able to go on their regular route going to Salt Lake City. My DH talked to someone on Saturday and said that US Highway 63 was open. That is the road that goes up thru Hardy where it was closed on Friday. Of course, they have a CB in their truck as well and can always get information from other truckers on how the roads are. The weather appears to be looking good out West this week, so hopefully they will get home a little early again on Tuesday night. If so, my DH will get to be home for a little part of my Birthday. We will be apart for our Anniversary tomorrow, but he will call me tho.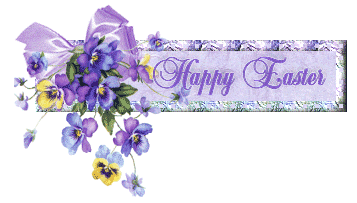 Well, I guess that's about it for today. I think the girls are going to go to Church this morning. I would go, but it's that time of the month for me once again, and I have to stay close to home. We brought some food home with us yesterday from my Birthday Party and we have plenty for us to eat today. We also have some of the Beef Fajita's that me and my DH brought home on Friday night as well. I doubt we will be going anywhere today. They have to start back to School tomorrow also. Yall take care my friends and have a Blessed Easter. May God Bless Each and Everyone of You.
LOVE & HUGS,