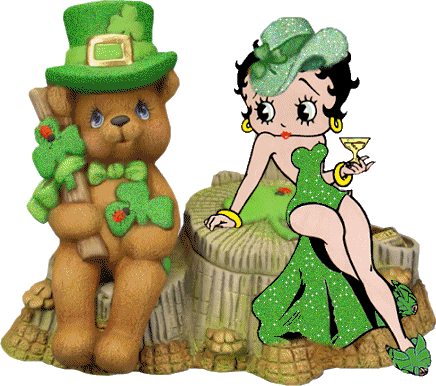 Good Mornin' Yall,

I do hope that everyone had a Blessed Sunday and ready to start a new day. It is currently 39 degrees and the winds are calm, therefore we have no winchill as of right now. Yesterday was a beautiful day and it warmed up to 52 degrees. It was just a tad bit on the windy side, but not too bad. Today we are suppose to have a high of around 55 degrees. More of our Snow melted yesterday but we still have a little left. I'm sure as the week progresses and the temperatures continue's to warm, it will all be gone soon.


Since St. Patrick's Day is just a week away, I thought I would get an early start and start using some St. Patrick's Day Graphics and Dividers. Since Green is my favorite color, I will enjoy doing this. I hope you will enjoy my St. Patrick's Day Decorations this week.


I would like to acknowledge a couple of things right now. First of all, Mary@ http://maryswritingnook.blogspot.com/ has given all of her Friends this beautiful St. Patrick's Day Card.
Isn't that a beautiful card? "THANK YOU" so much Mary for this beautiful St. Patrick's Day Card. I will cherish it always. Yall may remember that I won Mary's Easter Giveaway here not too long ago. I got to pick out 3 of her cards that I liked. Since they are Easter Cards, I am going to wait and take a picture of them on Easter Morning. I had Mary to fix a card for both of our girls and then one for my DH. Since I have my new camera now, I will use the camera to take pictures of them with the cards. If you have never been to visit Mary, PLEASE take some time and visit her. She is such a wonderful person and she lives in Canada as well. I always enjoy reading her stories and seeing what is going on in her part of the world. "THANK YOU" so much again Mary for the beautiful card.


Also, last week I was given a Stamp of Approval by Betty@
http://bettysthisandthat.blogspot.com/
.
"THANK YOU" so much Betty for giving me your Stamp of Approval. I will cherish this always. If you have never been to visit Betty, PLEASE drop by and visit her sometime as well. She lives in Tennessee and she finally got some Snow the other day. Me and her both have been wanting some measureable Snow this Winter, and we finally got it. "THANK YOU" so much again Betty for this Stamp of Approval.

Here is what Pea is saying about her Easter Giveaway.
With Easter fast approaching, I'm in the giving mood once again:-) Just add your name in the comments and on Friday, March 14th, at 8 a.m., I will draw a name. The winner will win the pictured goodies...Easter basket filled with a bunny candy dish, egg shaped candles, a bunny figurine, Marshmallow bunnies, egg decorations, Easter stickers and Lindor Easter eggs. You can click on the pictures to enlarge:-) Good luck everyone!! xoxo
Now just look at all those beautiful goodies. Who wouldn't want to win those. PLEASE go and visit Pea and enter her Easter Giveaway. Pea is such a wonderful and caring person. She lives in Canada also. I do enjoying visiting her and seeing what is going on in her part of the world. Someday I would love to go to Canada and visit with her and Mary. "THANK YOU" Pea for hosting this Easter Giveaway.

Yesterday not much went on around here. The girls did go outside a few times and played with their Friends and went up to our local park for a while. Yesterday morning I washed up some dishes that had piled up. LOL. We eat out of Paper Plates around here most of the time and since it's just me and the girls here most of the time, I let them pile up till there is enough to really wash. I also watched Food Network some and by 6:30p.m I was ready for bed. We did go up to our local Dollar General Store and I got me some more minutes for my Cell Phone and a few other things I needed here at the house. I also spent some quality time with the girls and we played around and talked for a while.

I have some laundry to do today. The girls are suppose to have Softball practice this afternoon. Our youngest daughter's practice starts at 3:30p.m. and goes to 5:00p.m. Our oldest daughter's practice starts at 6:00p.m. and ends at 7:30p.m. I don't know if the field will be too wet or not, but they will let me know for sure when they come in from School this afternoon. I do know our oldest daughter has her first game on the 29th of this month. It is the Pre-Season Tournament. I'm not sure yet where it will be held at, but I do hope the weather is warm by then. LOL. I remember going to games in the past and it was so cold that they had to wear their big coats while playing Softball. For our supper last night the girls was wanting some Fried Hot Dog and Bologna Sandwiches. That is what I fixed for them. I don't know what we will have tonight for supper since we maybe having Softball practices. I'll just have to wait and see. If they do have practice, it will have to be something quick tho.
Well, guess I'll go for now. I am just now having my first cup of coffee. I talked to my DH last night around 8:00p.m. and he was in Nebraska. I told him I was fixing to go to sleep and he said he was about 100 miles from where him and his Uncle would be switching out and then he was going to bed. He said he would call me this morning when he got up. Take care my friends and have a great day. May God Bless You and Yours.

LOVE & HUGS,