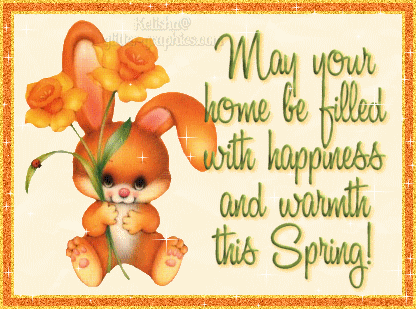 Good Mornin' Yall,

"HAPPY SPRING"!!!! Today is the first day of Spring. It is currently 36 degrees and the winds are calm, therefore, we have no windchill at this time. Have we had some wild and crazy weather around here the last couple of days. It started raining here on Tuesday night and I do mean it rained. I don't know how much we actually got here in the town where I live at, but I know it was quite a bit. There were even some Tornadoes close to us, but they went on to the North of us. We were lucky around here. Some of our neighboring towns weren't quite so lucky. Hardy, AR, and Springfield, MO, have been hit really hard with so much rain. Roads have been closed due to the flooding. In fact, it may be possible that my DH and his Uncle will have to find an alternate route when leaving out this coming Sunday going to Salt Lake City. Part of US Hwy. 63 going into Hardy has been closed and I don't know when it will open back up. Also, part of I-44 in Missouri, going towards Springfield has been closed as well. There have been many homes washed away and even a few lives have been lost. Please keep all of these people that are going thru this difficult time in your prayers. I do think it is suppose to be dry up thru Sunday.

We have finally got moved in. We got everything moved in on Saturday afternoon. Oh, I still have plenty of unpacking to do, but I'm just going to take my time and do a little bit each day. We started moving around 10:30a.m. last Friday and worked until around 6:00p.m. I found out I had bones I didn't even realize I had. LOL. I didn't sleep too good on Friday night because every bone in my body hurt. Saturday morning it was raining again and we finally got started back moving the rest around 11:30a.m. We had everything moved by 5:00p.m. Still another restless night for me. Sunday afternoon, me and the girls and my Mom went and cleaned the other house up. Monday I didn't do much because I was so tired and so sore from the weekend. The cable guy came out and got our cable and internet hooked up. Tuesday I did some unpacking and put things up. I even cooked homemade Chili for our supper on Tuesday night. Our oldest daughter went and stayed all night with one of her friends and our youngest daughter had one of her friends over to spend the night. My DH made it home Tuesday night around 10:30p.m. Wednesday I did some laundry. I haven't been having to set no alarm since the girls have been out on Spring Break this week. I've kind of been staying up late and then sleeping late. LOL. I had started to do a post for Tuesday, but I was so tired and couldn't think or concentrate, so I gave up. I guess my mind was even a bit tired. LOL. The rest of this week and the weekend is going to be pretty busy for us around here too. My DH will be home Friday and we will probably go out on Friday night to celebrate our Anniversary and my Birthday. The girls went to my Parent's house on Wednesday afternoon and will be back home on Saturday. They are taking them to Jonesboro today and my Sister has booked a room at one of the hotels that has an indoor swimming pool. They are staying all night up there tonight and going swimming. My Sister is taking them shopping on Friday for them to pick out some things for our oldest daughter's Birthday next month. I can't go into details right now for our Saturday, but I will let you all know about it on Sunday or Monday. Then of course, Sunday is Easter. My DH will be leaving out around 5:00a.m. on Sunday. I'm not sure just yet what me and the girls will do. We may go to my Parent's house and eat with them.

I'm taking a break from doing the "THANKFUL THURSDAY" and Slow Cooking Thursday for today. I do have so many things to be Thankful for tho, but I just don't feel like participating this week.

Well, I guess I will go for now. I am going to try and go back to bed and see if I can get some sleep. I don't know what time I will get up. When I do and am having my coffee, I will start visiting and trying to catch up with everyone. It will probably take me a week just to do that. LOL. Yall take care my friends and have a great day. May God Bless Each and Everyone of you on this first day of Spring.
LOVE & HUGS,